Objective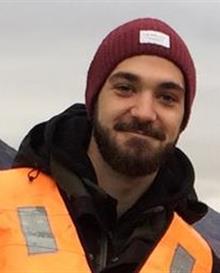 Recently graduated from Stirling university MSc Sustainable aquaculture, I am seeking an opportunity to start my professional career in the aquaculture industry. Having studied the last five years in aquaculture courses, covering technical, management and scientific aspects, I am ready to apply and challenge my knowledge and skills developed. My aim is to find a challenging position giving me the opportunity to unfurl myself, to develop myself further, and to apply my own ideas for the company's success. Being adaptable, for the right opportunity, I am willing to travel abroad and live somewhere new.
During my studies, I had various work experiences through internships. These experiences included challenging fieldwork in a salmonid restocking farm and in an oyster and organic shrimp farm, as well as scientific work in modeling integrated multitrophic aquaculture systems. These allow me to gain experience both in practical and theoretical aspects of the industry.
Being particularly interested in intensive and innovative production system design and management, I decided to focus my following work experiences on recirculated aquaculture systems (RAS). I worked on a five-month project where I assemble and tested an experimental RAS including an algal biofilter. Having acquired practical knowledge on RAS building and monitoring, I then decided to focus my master thesis on the design and engineering side of RAS, working on the conception of five systems dedicated to the culture of tropical species.
---
Skills
Zootechnics, maintaining aquatic livestock
Design and assembly of RAS
Implementation and project management
Processing and critical analysis of data
Good communication skills
Production planning
Work Experience
April 2018 - August 2018
Master Thesis
Stirling University and Aqualife
Stirling, UK
Design of five experimental recirculated aquaculture system for tropical species, including tilapia, barramundi, pangasius, seabass, and seabream. The thesis was including a study of species culture requirement, work on production planning and individual design of system equipment.
January 2018 - Febuary 2018
Master 1 Internship
INRA research center
Rennes, France
IMTA effect European project. Polyculture pond system modeling with Ecopath. Isotopic data analysis. Presentation of the results at World Aquaculture Society 2018 in Montpellier, in the IMTA section
March 2017 - July 2017
Research internship
Les Poissons du Soleil, CIRAD
Balaruc-les-Bains, France
Tests on fish pellets made of recycled food waste. Conception and installation of a recirculated system. Study of algal bio-remediation.
October 2016 - Febuary 2017
Bachelor tutored project
ISETA
Poisy, France
Adaptation of Biofloc technology on carp fry. Implementation of experiments and structures. Daily monitoring of the systems.
Novermber 2015
Internship
Pisciculture de Rives
Thonon-les-Bains, France
Artificial reproductions of Salvelinus alpinus during exceptional fishing on Lake Geneva. Assistance for the improvement of a hatchery cooling system. Supervision of students in company discovery courses. Assistance for breeding routines.
July 2015 - August 2015
HND Internship
La Petite Canau
Médoc, France
Fish farm raising shrimps and oysters. Contribution to shrimp fisheries monitoring and management. Treatment of an environmental problem (algal proliferation).
March 2015
Internship
Pêcherie l'Escadrale
Anthy-sur-Leman, France
Professionnal fishing on lake Geneva. Processing and packaging fish. Cleaning fishing nets.
Education
September 2018 - August 2019
Stirling University, UK - MSc Sustainable Aquaculture
With engineering and business module
September 2017 - June 2018
European Marine Institut University, France - Master 1 Marine Biology
Section Aquaculture and fisheries sciences
September 2016 - September 2017
Sovoie Mont-Blanc University, France - Professional bachelor degree
Section Sustainable Aquaculture and Quality Managment with distinction
September 2014 - June 2016
ISETA, France - HND Aquaculture
With distinction
Publications