Objective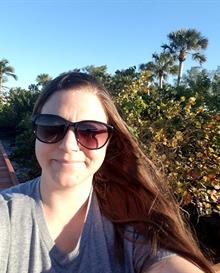 To explore a new career path within the aquaculture industry; preferably in shellfish and/or fin-fish.
Please feel free to read this wonderful article Virginia Shaffer "Lady Oyster" recently wrote. Entitled "Finding Your Path in the Oyster Industry: Nicolette Mariano's Story of True Grit"
https://www.theladyoyster.com/updatesandstories/2019/2/4/nicolette-mariano

---
Skills
Exceptional communicator
Outreach & education specialist
Oyster hatchery & farm management skills
Finfish RAS experience
Effective multi-tasker
Aquaculture Farm Management
Work Experience
August 2018 to February 2019
South FL Regional Manager, Aquaculture Biologist
Oyster Boss, LLC
Eastpoint, FL
As the South Florida Regional manager I am responsible for marketing, distribution, sales, customer relations, advertising, social media, and education for our farm raised oysters. I am also responsible for putting together and executing special such as weddings and seafood festivals for our shucking catering service across Florida. As the on staff biologist it is my duty to collect and analyze water quality, oyster health, oyster growth, and more.
January 2018 to May 2018
Sixth Grade Science Teacher
Dr. David L. Anderson Middle School: Martin County Schools
Stuart, FL
I was responsible for daily planning and teaching, monitoring students progress, maintaining strong relationships with my students' parents, and collaborating with my grade level and science team members.
April 2017 to October 2017
Aquaculture Biologist II - Algae
Thad Cochran Marine Aquaculture Center at University of Southern MS
Ocean Springs, MS
As the lead biologist my primary responsibility is monitoring and maintaining algae cultures from the clean room through scale-up to mass culture while maintaining high standards of biosecurity and cleanliness in the laboratory and production areas.
June 2016 to April 2017
Research Technician I
Department of Cell Biology at Duke University Medical Center
Durham, NC
As part of the facilities staff I assist with zebrafish husbandry which includes: multiple daily fish feedings, Artemia cyst decapsulation and culture care, water quality analysis and readings, daily fish health checks, cleaning, maintenance, and filter changes pertaining to seven recirculating aquaculture system (RAS), transferring fish embryos and providing care in nursery racks, and communicate with researchers in regards to their fish health and care.
February 2015 to February 2016
Hatchery Technician
Muscongus Bay Aquaculture, INC.
Bremen, ME
Assist hatchery staff in maintaining and feeding shellfish brood stock and spat, maintaining different cultures of algae, maintaining and caring for larval shellfish in indoor downweller systems before being transferred to Floating Upweller System (FLUPSY). I also worked out on the farm sorting, grading, and inspecting oysters for market. A few months after transitioning from the hatchery to the farm I was also put in charge overseeing the packing, tagging, and shipping of the oysters.
April 2014 to December 2014
Shellfish Aquaculture Assistant
Town of Barnstable Marine & Environmental Affairs
Centerville, MA
Assist shellfish biologist and shellfish technician with general and technical work in matters relating to shellfishery in the town. This includes maintaining oysters for grow out in bag and tray systems, planting quahogs underneath predator exclusion nets, and daily animal husbandry in regards to caring for quahog seed in a FLUPSY (Floating Upweller System).
August 2014 to December 2014
Shellfish Aquaculture Farm Staff
Crowes Pasture Oyster Farm LLC
South Dennis, MA
Assist with aquaculture gear maintenance, size grading, chipping, sorting, and packing oysters to be taken for delivery to wholesaler.
Education
2009/2013
Florida Institute of Technology - B.S. Aquaculture
Publications