Eric Pedersen, 1959-2022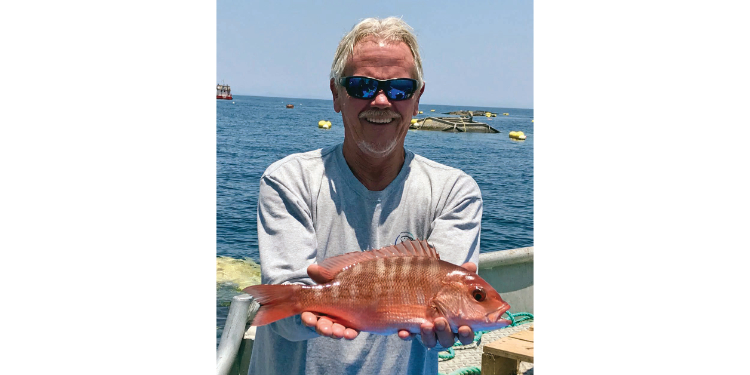 Perhaps it was his Viking blood that tied him to the sea from the start, or the precious moments spent as a kid with his father by the beach in his native Los Angeles, or fishing the bountiful seas of Baja California, with the rugged beauty of the desert and mountains as a backdrop. Surely these contributed to his pursuing a degree in Marine Fisheries Biology and later, in 1985, to work from Ensenada, Mexico as head of the observer program aboard commercial fishing vessels for the Inter-American Tropical Tuna Commission. His love for the ocean took him places – Panama, Costa Rica, Guatemala, Ecuador. But it was in fish farming that Eric found his true calling from the sea.
That calling came with a loud knock in 2006. Eric's partner Rex Ito remembers pulling Eric away from his career with the Tuna Commission to get into aquaculture. Eric became one of the founding partners of Bajamachi, a company that would later become Pacifico Aquaculture, a pioneering farm ranching bluefin tuna and growing yellowtail amberjack at a site off beautiful Isla Todos Santos, near Ensenada. Other fish were tried: white sea bass, California halibut, and finally striped bass. Rex reminisces: "From the permitting process in Mazatlán, to a parade of partners, through the highest highs and the lowest lows, then and over the years we trusted each other and always had each other's back." Erik and Rex had quite a run, partners, and friends for over 20 years, promoting and pioneering ocean fish farming throughout Baja California.
While at Pacifico, one day Eric visited his friend and colleague Terry Morris in La Paz, who was running another farm there, Rancheros del Mar. Eric noticed several steel cages, unused and in poor condition. He asked Terry what his plans were for those. "Make me an offer," Terry said. He did, took the cages to Ensenada, repaired them, and used them to double fish production at Pacifico. Many people saw those abandoned cages, but Eric had the drive and vision to put them to good use. Pacifico prospered, grew and in 2015, the company was sold and Eric moved to La Paz to manage farming operations for Earth Ocean Farms, raising emerging aquaculture species totoaba and Pacific red snapper. There he spent what would be his last five years, doing what he enjoyed most: raising fish, boating, fishing with friends and family and always surrounded by his beloved sea.
Throughout his professional life Eric was a mentor who instilled excellence among his peers and coworkers. He treated employees as if they were family. His unbeatable work ethic, "can do" leadership and unparalleled rapport were his strengths. "El Vikingo," as many called him, always shared his hard-learned lessons and experiences with others, in the process mentoring a whole generation of aquaculture professionals. He had a "sixth sense" with fish that made his understanding of what was needed so special. He got things done!
Eric enjoyed the ocean, both as a workspace and for fun. He was an avid fisherman, a fantastic scuba diver and underwater photographer. His fishing stories, always taken with a grain of salt, were the stuff of legend. He loved Mexico, the people and culture. He was passionate about conservation of the seas and its creatures. Life looked good. Eric loved to spend special evenings with family and friends in his patio, eating Alma's amazing cooking and naming and singing songs from the 60s, 70s, 80s and 90s.
Then, two years ago, Eric found that he had lung cancer. He was determined to beat the disease and did so against an 80 percent chance of mortality. However, the harsh treatments did what the cancer could not do. Sadly, Eric passed away on the morning of February 16, 2022. He is survived by his beloved wife of 25 years Alma Gloria and his two daughters Kirsten and Ariana. He will be sorely missed. His personal and professional accomplishments will be remembered and admired. Thank you, Eric. We honor your life and legacy with great pride and happiness. Your contributions to the Mexican marine aquaculture industry will be forever remembered. We miss you, dear friend!

— Contributions from Rex Ito, Terry Morris, Pablo Konietzko, Ernesto Altamirano and Lorenzo Juarez
About World Aquaculture Society