JWAS Editor's Choice Awards 52(1)
Aerator energy use in shrimp farming and means for improvement
Boyd, CE and McNevin AA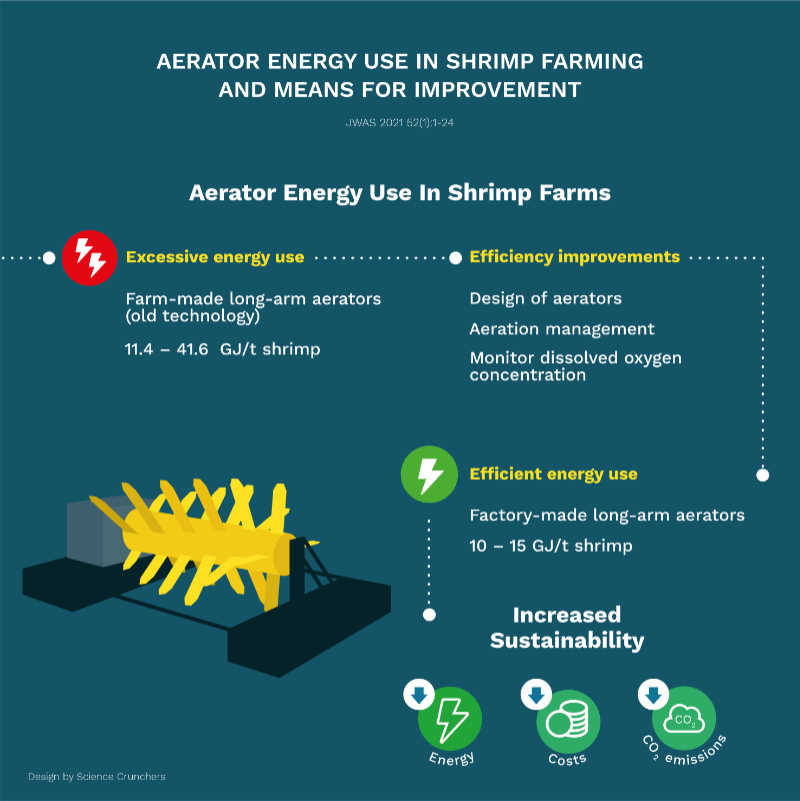 Claude Boyd and Aaron McNevin apply their exceptional knowledge to review energy use, and wastage, in aeration for shrimp operations. The range of energy use on shrimp farms is extremely large. It extends from 11.4 to 41.6 GJ/t shrimp across the variety of industry operators. Huge potential for efficiency improvements are identified, with the authors showing that energy use for aeration can be less than 10-15 GJ/t shrimp. Installed capacity is often excessive in many farms, as is application of aeration at early production stages. The use of older technologies like self-made long-arm aerators leads to excess energy use. Applying research data on improved aerator design could improve efficiency in Asia, while monitoring of dissolved oxygen is a simple and under-utilised way to determine efficacy and improve efficiency. This review provides practical and valuable recommendations to save energy and costs in shrimp production worldwide.
---
Preliminary assessment of large‐scale co‐culture of sandfish (Holothuria scabra) with the Babylon snail (Babylonia areolata) in earthen ponds and in raceways
Dobson, GT, Duy, NDQ, Southgate, PC.
Gregory Dobson and coauthors trailed two tropical invertebrates Holothuria scabra (sandfish) and Babylonia areolata in two large‐scale co‐culture experiments, one indirect and one direct, to evaluate growth performance and nutrient uptake. In the first trail in earthen ponds, Babylonia were held at high density in a central net pen and fed trash fish, with sandfish surrounding the pen at low density. Sandfish growth was high but Babylonia growth was similar to values for fed monoculture. In the second trial, a direct co-culture was applied in concrete raceways. Sandfish density was doubled and Babylonia density reduced by one-third. Results showed large increases in the growth performance of both species, with Babylonia growth twice that of monoculture. Total N was also 20% lower in co-culture sediments. Results are highly promising for future co-culture at commercial scales.
---
Effect of understocking density of channel catfish fingerlings in intensively aerated multiple‐batch production
Kumar, G, Wise, D, Li, M, Aarattuthodiyil, S, Hegde S, Rutland, B, Pruitt, S, Griffin, M, Khoo, L.
Catfish farming in the US has changed greatly in the past 40 years and the practice of multiple‐batch production is established as the preferred method of raising channel catfish. Aeration and stocking rates have also steadily increased however clear stocking density recommendations are lacking for intensification. Kumar et al understocked three density treatments 17,484, 20,612, and 26,124 fingerlings/ha (mean weight = 40 g/fish) to 12 ponds and followed yields, survival, growth and feeding rate. All densities exhibited positive cash-flow and were validated as suitable understocking densities. If sub-marketable yield/fish was taken into account as revenue, the three treatments performed at very similar levels of economic return. Where sub-marketable fish were excluded from revenue calculations, higher density understocking offered diminished net returns and higher breakeven prices.
---
Effects of salinity on growth characteristics and osmoregulation of juvenile cobia, Rachycentron canadum (Linnaeus 1766), reared in potassium‐amended inland saline groundwater
Antony, J, Reddy, AK, Sudhagar, A, Vungurala, HK, Roy, LA.
Saline inland water and groundwater are problematic for agriculture but offer potential for aquaculture of marine or salt-tolerant species. Antony et al. found juvenile cobia, Rachycentron canadum, survival was 0% in raw saline groundwater at salinities up to 15 g/L. They then compared juvenile cobia growth in potassium (K+)‐amended saline groundwater (100% K+ fortified) and reconstituted seawater at salinities of 5, 10, and 15 g/L. Survival improved to 100% in all treatments and all performance parameters including growth were similar across treatments at the end of the 60 day experiment. Osmoregulation was normal among cobia in K+‐amended saline groundwater and overall results show growth can be optimized for cobia in salinities up to 15 g/L saline groundwater if it is suitably K+‐amended.
---
About World Aquaculture Society
Magazine Articles
2022

2021

2020

2019

2018

2017

2016