JWAS Editor's Choice Awards 51(5)
Effect of feeding frequency on the white shrimp, Litopenaeus vannamei, during the pilot-scale nursery phase of a superintensive culture in a biofloc system
Wasielesky W. Jr., Bezerra AX.. Poersch L., Banderó Hoffling L., Krummenauer D.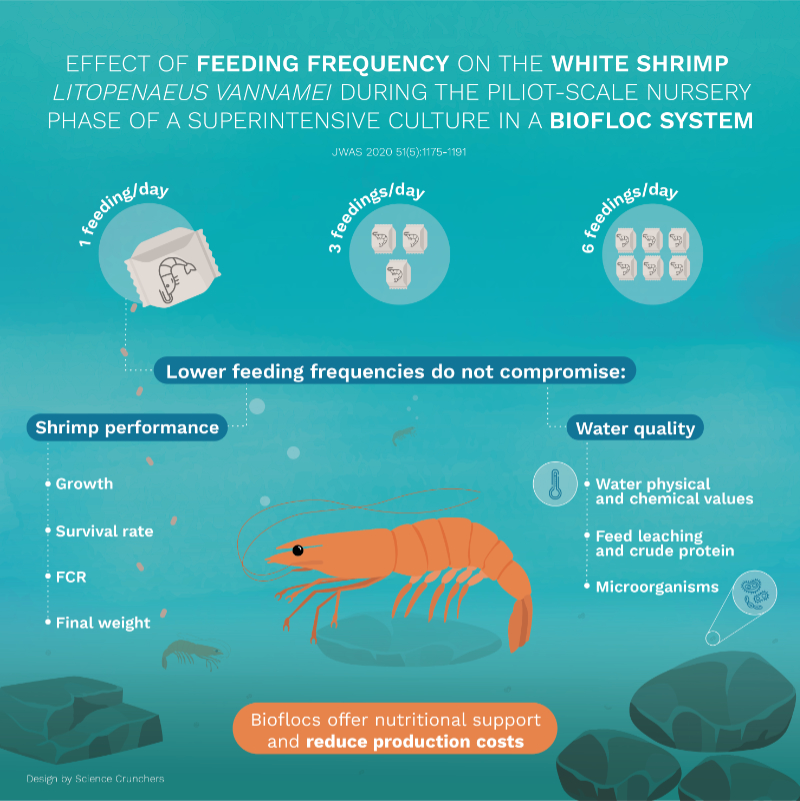 Biofloc systems for shrimp production are of increasing importance in Brazil and globally, yet feeding regimes must be optimal for management of animals, system water quality and economic viability. Comparing feeding frequencies in a pilot nursery system, Wasielesky et al. show that reducing feeding frequency to one event per day allows time and cost reductions without affecting water quality or shrimp performance. Using lower feeding frequencies takes advantage of the nutritional support offered by bioflocs to improve system economic efficiency.
---
Larval growth, survival, and partial budget analysis related to replacing Artemia in larval culture of six freshwater ornamental fishes.
Lipscomb TN, Patterson JT, Wood AL, Watson CA, DiMaggio MA
There is a strong reliance on Artemia among ornamental producers for early life stages of many ornamental fish species. Finding viable alternatives could diversify supply, reduce a variety of industry costs and improve resilience. Larvae of the ornamental speciesCorydoras aeneus, Synodontis eupterus,Synodontis nigriventris, Pterophyllum scalare, and Trichogaster lalius larvae all performed as well or better in terms survival, feeding and standard length when fed specific microparticulate diets over a period of 14 days. Net economic benefits arise with microparticulate diet feeding, which represent a physiologically and economically feasible alternative to Artemia for ornamental fish larval culture.
---
Effect of genetic line, protein source, and protein level on growth, survival, and immune‐related gene expression of Litopenaeus vannamei.
Rodriguez‐Anaya LZ, Casillas‐Hernández R, Flores‐Pérez MB, et al.
Two lines of Litopenaeus vannamei, one optimised for growth and one for white spot syndrome virus resistance, were each fed six dietary treatments at three protein levels. Genetic line was the primary determinant of both survival and growth rates but there was significant interaction between all variables, influencing immune response as measured by gene expression. Feeding plant-based protein at a level of 30-35% of diet was sufficient to obtain acceptable growth and survival without compromising immune response. Results can inform diet formulation to achieve optimal yields at suitable diet cost.
---
First report of Cyprinid herpesvirus 2 outbreak in cultured gibel carp, Carassius auratus gibelio at low temperature
Ouyang P, Zhou Y, Wang K, et al.
Herpesviral hematopoietic necrosis (HVHN), caused by Cyprinid herpesvirus 2 (CyHV‐2), is an infectious disease affecting the genus Carassius with high morbidity and mortality. Outbreaks are not usually reported at temperature extremes. However, in late 2018, a disease outbreak was reported among cultured gibel carp in ZiGong, Sichuan Province, China at water temperatures of 10°C. Observations, clinical signs, examinations and histological assays indicated an HVHN outbreak, which was confirmed by PCR testing for CyHV‐2. Infections were reenacted at 13°C with 50% mortality. Overall results indicate HVHN risk outside previously considered temperature ranges for gibel carp.
---
About World Aquaculture Society
Magazine Articles
2022

2021

2020

2019

2018

2017

2016